Initial Coin Offerings (ICOs) are taking the financial markets by storm. As Business Insider reports, startups raised more than $ 5.6 bn in funds in 2017 through ICOs, a total of 435 ICOs (of 913 in total) succeeded. While ICOs are a booming and growing field, there are also a lot of black sheep on the market. Too many "me-too-projects" and flat-out scams are threatening to ruin the scene.
A critical element in any successful ICO is the publication of an ICO White Paper, in which the startup presents both its business plan as well as the technical details of its blockchain implementation, but also all the details about the planned tokensale and use of proceeds.
It is safe to say that the ICO White Paper (aside from good marketing) is the most important element of any Initial Coin Offering. 
Given its crucial importance, it is of utmost priority for any startup or venture to ensure the creation of a professional white paper. But this is hard to do! In a still relatively unregulated ICO market that lacks legally binding provision and information requirements, up to now, the creation of a white paper has largely been a matter of chance and guesswork.
While there are some great examples, too many me-too-projects and obvious ICO scams and whitepapers lacking crucial information are harming potential investors' trust in the crypto- and ICO-market as a whole.
What Makes A Good ICO White Paper?
Moreover, there is no clear standard, no legal guidelines, and no clear best practices when it comes to the questions of
How should a white paper be designed?
What information must/should it (not) contain?
How should it be structured?
and many many more…
This is why in late 2017, I set out to do the world's first extensive and systematic analysis and review of ICO White Papers in detail, analyzing both
quantitative aspects (page count, word count, readability, number of illustrations, …)
qualitative aspects (structure, design, chapters, types of illustrations, completeness of information, …)
The results of the study are now finally available in the exclusive White Paper "The ICO White Paper Study 2017", published in cooperation with The Strongest Link, Switzerland's first ICO Accelerator Platform.
Best Practices for ICO White Papers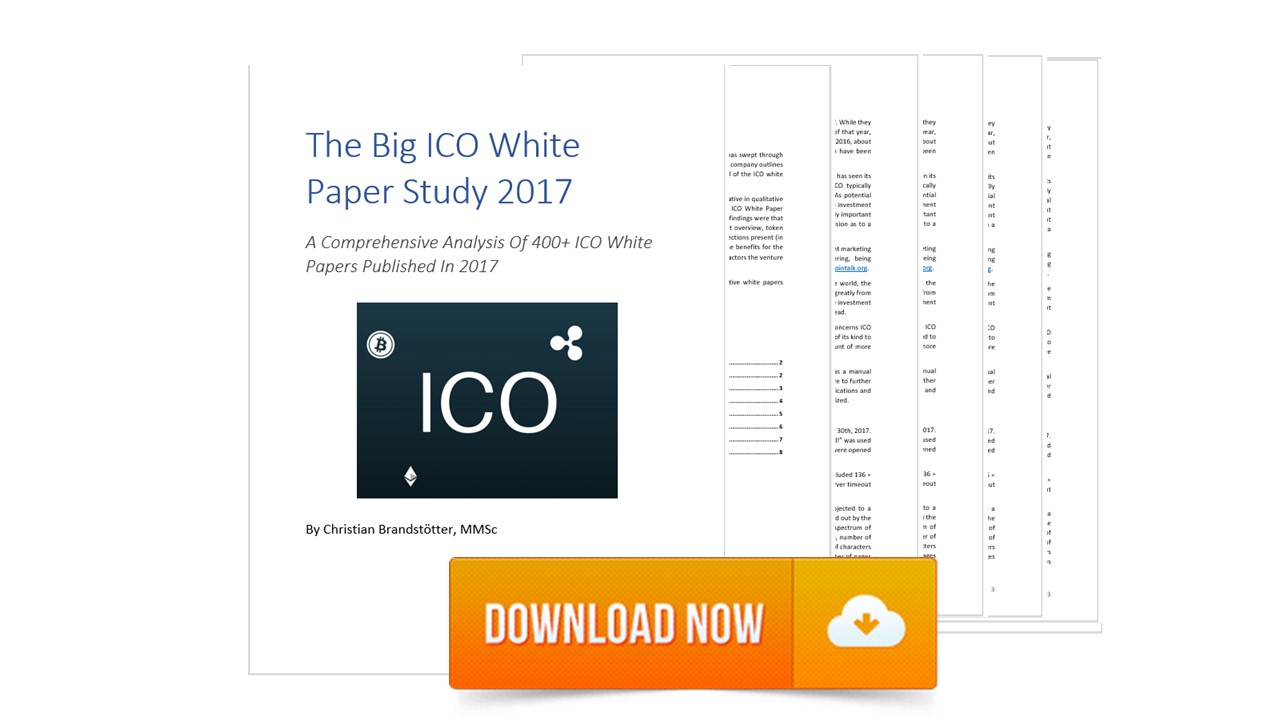 In this exclusive White Paper, you are going to learn…
The Optimal Structure for Your ICO White Paper
3 Critical Elements More Than 50% of ICO White Papers Lack
The 2 Most Useful Illustrations Your White Paper Should Contain
3 Powerful Techniques That Add Instant Credibility To Your ICO White Paper
And Much Much More
To claim your exclusive download of this 8-page-white paper, simply enter your first name and e-mail address below. Your white paper will be sent directly to your inbox.